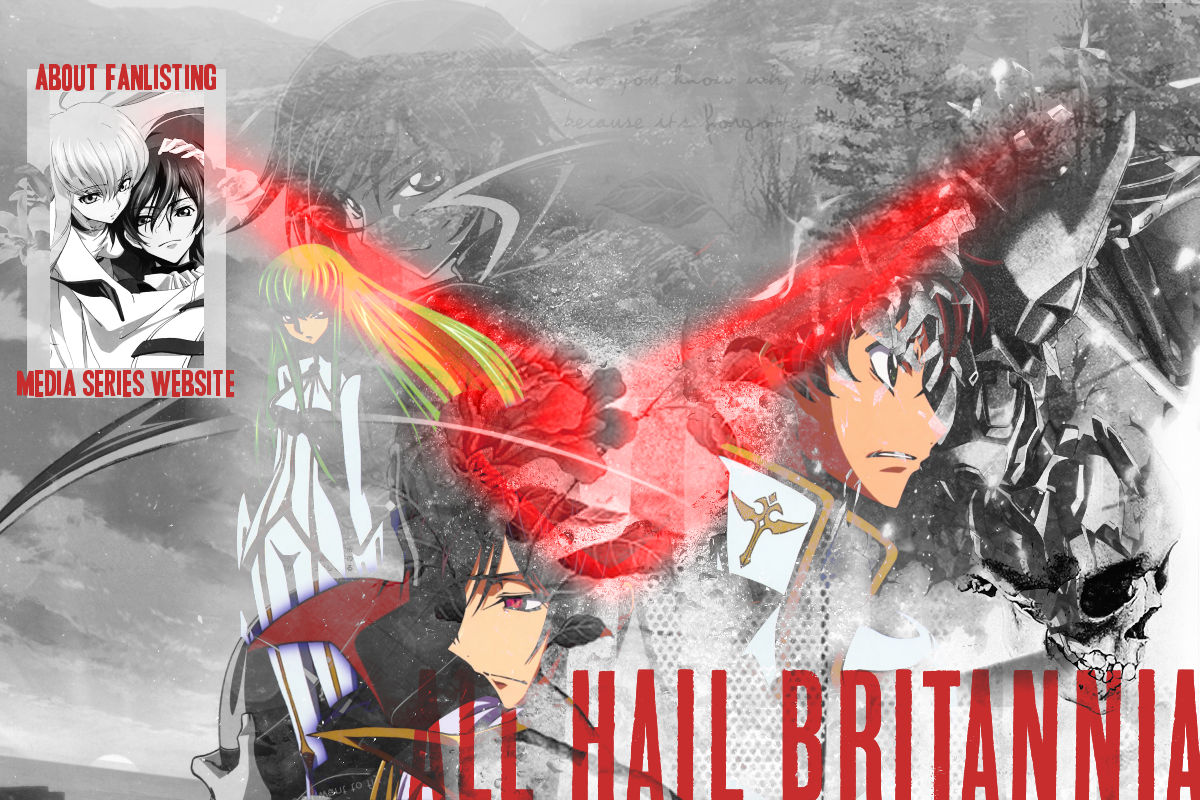 Welcome
Welcome to All Hail Britannia, a shrine and AnimeFanlistings.com approved fanlisting for the anime series Code Geass: Lelouch of the Rebellion. Here you will find information, media, and all the latest Code Geass news. If you are a fan of Code Geass, please consider showing your support for the series by joining its fanlisting.
New Code Geass Merchandise
Mechanical Compilation
Posted onFebruary 9, 2019
Here are some images from the Code Geass Mechanical Compilation book. Full contents can be found here.

(more…)
Code Geass Perfume
Various Merchandise
UNIONE – Review Image
Oudou Collaboration Store
Posted onApril 27, 2018

view full image

To commemorate the premiere of Code Geass: Glorification Marui is having a collaboration store from May 24 to June 10. You can find more information on the official Code Geass website.
Code Geass Koudou Blu-ray
Posted onMarch 23, 2018
The Blu-ray for Code Geass: Lelouch of the Rebellion: Transgression will include commentary from Taniguchi Goro (director) and Sakurai Takahiro (Suzaku). There are also various limited edition versions depending on where you purchase from, including Amazon and Animate. You can find more details on the official website. The Code Geass Koudou Blu-ray and DVD will be available on June 8.
Piano Solo Collection and Concert
Posted onMarch 6, 2018
On March 28 the album Code Geass: Lelouch of the Rebellion Piano Solo Collection will be released. It features 12 piano versions of Code Geass songs, performed by the popular YouTube and Nico Nico pianist Morishita Yui, also known as "Duke Pianito". In addition, a concert will be held at Yamaha Hall on April 26 with Duke Pianito performing with an appearance by Code Geass director Taniguchi Goro.
Piano Solo contains the following songs:
01. COLORS(オリジナル:FLOW)/ ピアニート公爵(演奏・編曲)
02. Nightmare(オリジナル:中川幸太郎)/ ピアニート公爵(演奏)、宮野幸子(編曲)
03. Stories(オリジナル:Hitomi)/ ピアニート公爵(演奏)、タカノユウヤ(編曲)
04. 勇侠青春謳(オリジナル:ALI PROJECT)/ ピアニート公爵(演奏)、タカノユウヤ(編曲)
05. Masquerade(オリジナル:Hitomi)/ ピアニート公爵(演奏)、宮野幸子(編曲)
06. モザイクカケラ(オリジナル:SunSet Swish)/ ピアニート公爵(演奏)、タカノユウヤ(編曲)
07. Previous Notice(オリジナル:中川幸太郎)/ ピアニート公爵(演奏)、タカノユウヤ(編曲)
08. Elegant Force(オリジナル:中川幸太郎)/ ピアニート公爵(演奏)、タカノユウヤ(編曲)
09. Innocent Days(オリジナル:Hitomi)/ ピアニート公爵(演奏・編曲)
10. WORLD END(オリジナル:FLOW)/ ピアニート公爵(演奏)、タカノユウヤ(編曲)
11. 0(オリジナル:中川幸太郎)/ ピアニート公爵(演奏・編曲)
12. 僕は、鳥になる。(オリジナル:Hitomi)/ ピアニート公爵(演奏・編曲)
13. Continued Story(オリジナル:Hitomi)/ ピアニート公爵(演奏・編曲)
Also coming in March, the book Code Geass: Lelouch of the Rebellion Best Selection contains official sheet music for 22 Code Geass songs, as well as color illustrations and a poster. It will be available on March 26.
1.COLORS/FLOW
2.解読不能/ジン
3.瞳ノ翼/access
4.勇侠青春謳/ALI PROJECT
5.モザイクカケラ/SunSet Swish
6.O2~オー・ツー~/ORANGE RANGE
7.WORLD END/FLOW
8.シアワセネイロ/ORANGE RANGE
9.わが﨟たし悪の華/ALI PROJECT
10.Stories/Hitomi
11.Masquerade/Hitomi
12.Alone/Hitomi
13.Innocent Days/Hitomi
14.Nunnally/Hitomi
15.僕は、鳥になる。/Hitomi
16.Continued Story/Hitomi
17.ピカレスク/酒井ミキオ
18.Callin'/酒井ミキオ
19.0
20.Nightmare
21.Elegant Force
22.Previous Notice