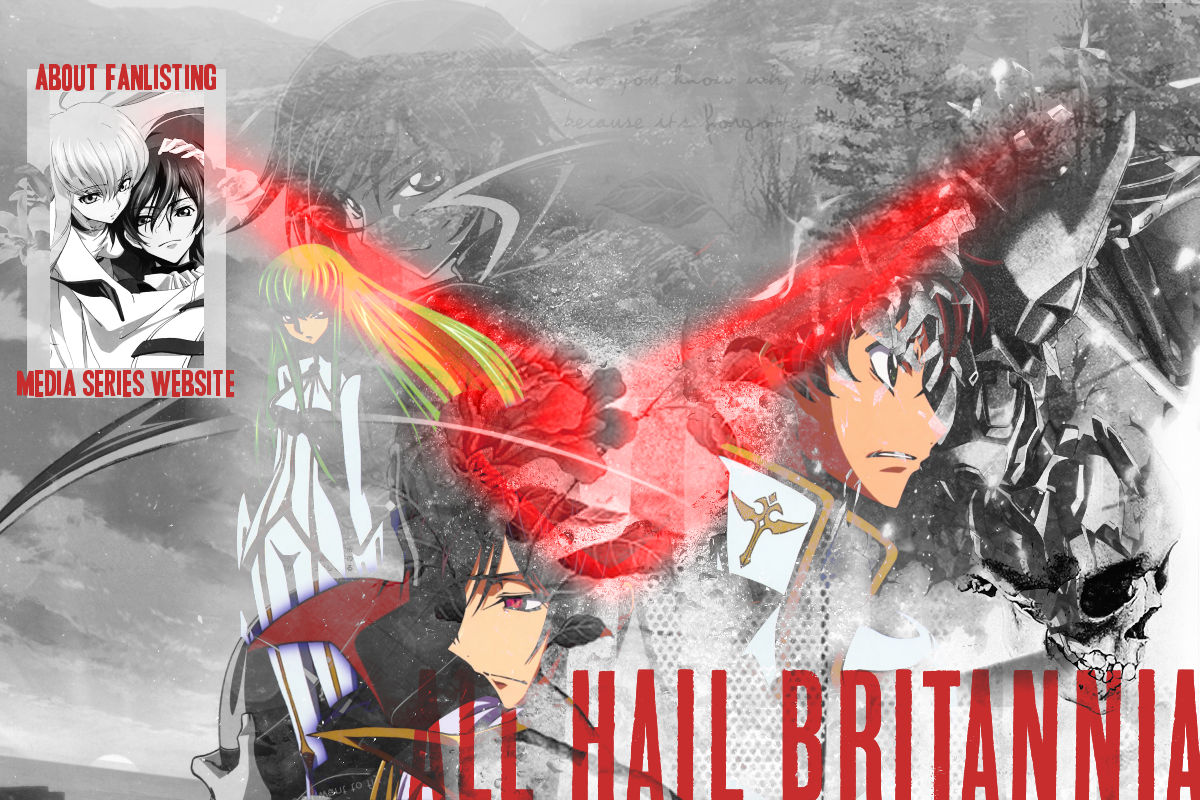 Welcome
Welcome to All Hail Britannia, a shrine and AnimeFanlistings.com approved fanlisting for the anime series Code Geass: Lelouch of the Rebellion. Here you will find information, media, and all the latest Code Geass news. If you are a fan of Code Geass, please consider showing your support for the series by joining its fanlisting.
Fujiwara Sakura – The Moon Lyrics
Posted onFebruary 25, 2018
真っ暗な月の
向こう側を知ってて
真っ白な夜に怯えてるの
消える幻には
誰も気にとめない
間違いを正すために
全て奪うの?
あぁ、分かり合うことなど
できないならって諦めて
息もせず 進むの 誰のため?
愛を知っているだけなの
あなたもそうでしょ?
導かれてるみたい
今も 誰かの目で
憎しみは廻っていく
希望の隣で
あぁ、歪んで見えない
あの子もきっと探してた
息もせず 泳ぐの この空を
声をあげても届かないのは
あなたのせいでしょ?
あぁ、もし許せないなら
いっそもうこの手を離して
息もせず 進むの 誰のため?
君を愛していただけなの
あなたはどうなの?
何もかも手にしたその先に
愛を待っているだけなの
あなたもそうでしょ?
君を愛していただけなの
あなたもそうでしょ?
Fujiwara Sakura – The Moon
Handou End Theme Preview
Posted onFebruary 5, 2018
Here's a preview of the Code Geass: Handou end theme, The Moon by Fujiwara Sakura. It will be available February 07, 2018 on iTunes, Google Play, and Spotify, all region locked to Japan.
Koudou ED – Iris: Only Red is Missing
Code Geass Koudou End Theme News
Posted onSeptember 1, 2017
It was announced on Twitter today that the Malaysian born singer Iris will be performing the new end theme for the first Code Geass compilation movie, Koudou. The new song, Aka dake ga tarinai, was produced by Asakura Daisuke from the group access, and lyricist Akio Inoue. Access performed Hitomi no Tsubasa for the last two episodes of season one. The limited edition anime version of Aka dake ga Tarinai features new art of Lelouch and C.C.


The new end song will go on sale October 18. Code Geass: Lelouch of the Rebellion Koudou is in theaters October 21.