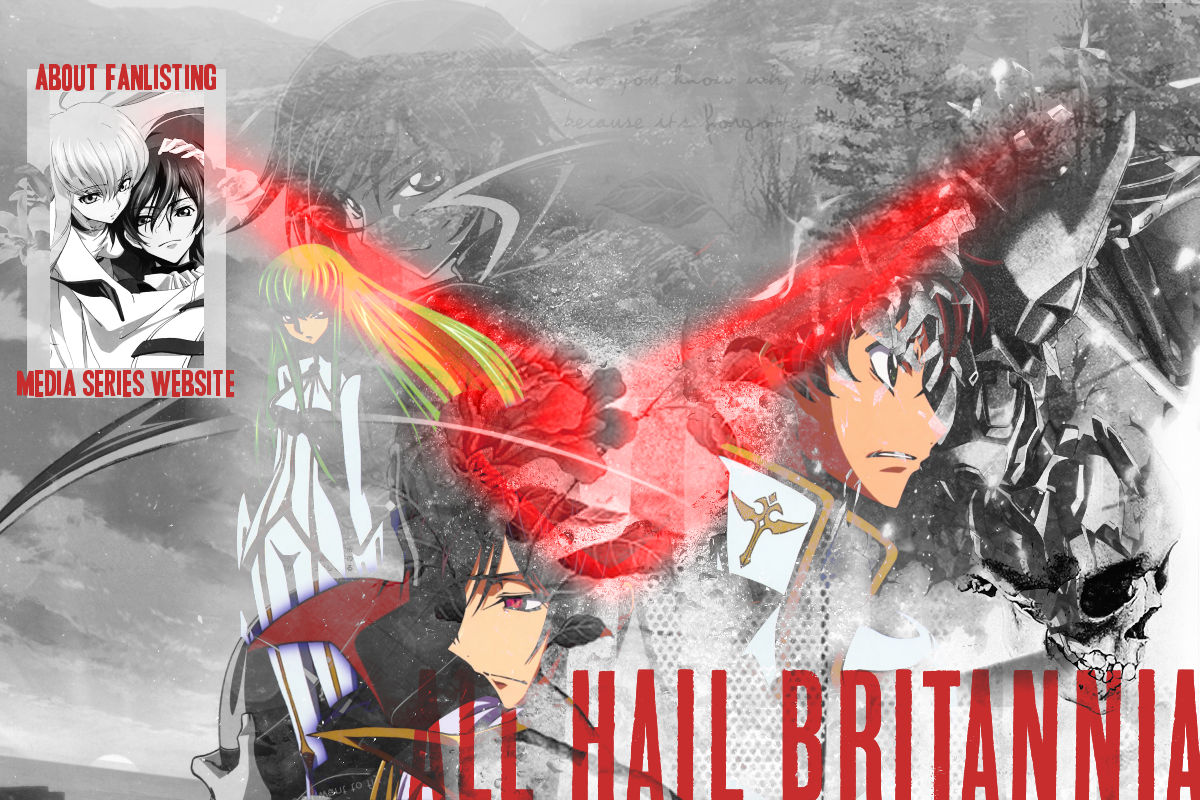 Welcome
Welcome to All Hail Britannia, a shrine and AnimeFanlistings.com approved fanlisting for the anime series Code Geass: Lelouch of the Rebellion. Here you will find information, media, and all the latest Code Geass news. If you are a fan of Code Geass, please consider showing your support for the series by joining its fanlisting.
Code Geass Re;surrection PV
Posted onDecember 1, 2018
Sunrise has released a new trailer for Code Geass: Fukkatsu no Lelouch with English subtitles on their Facebook page.
Re;surrection PV Screencaps
Code Geass Re;surrection Movie
Posted onAugust 3, 2018
It was announced today that the next Code Geass project, Fukkatsu no Lelouch, would be a movie sequel to Glorification. It is set to be released February 2019.
Re;surrection Announcement
Posted onJuly 28, 2018
The official Code Geass twitter account tweeted on the 27th that there will be an important announcement regarding Fukkatsu no Lelouch on August 3rd at 20:00/8PM Japan time, via the Bandai channel, Line Live, and Abematv. These streams may be region locked.

Oudou/Glorification Blu-ray
Posted onJuly 13, 2018
Code Geass – Lelouch of the Rebellion III: Glorification will be released on Blu-ray and DVD on September 26, 2018. There will be two limited editions featuring unique designs, as well as special bonuses depending on where the Blu-ray or DVD is purchased, such as a Lelouch and Suzaku artboard from Animate. The special limited edition will include commentary from director Goro Taniguchi, and seiyuu Fukuyama Jun (Lelouch) and Nazuka Kaori (Nunnally). You can find more information on the official website.
Oudou Collaboration Store
Posted onApril 27, 2018

view full image

To commemorate the premiere of Code Geass: Glorification Marui is having a collaboration store from May 24 to June 10. You can find more information on the official Code Geass website.
Code Geass Oudou Theme
Posted onApril 26, 2018
Here is the official music video for Code Geass: Oudou/Glorification's theme, NE:ONE by Survive Said The Prophet. The single will be released May 23.
Code Black+
Posted onApril 25, 2018
You can get the Code Geass Code Black+ album at Seiyuu.me. It features the songs:
01 Back to Zero – Lelouch (CV. Fukuyama Jun)
02 libra – Lelouch (CV. Fukuyama Jun)
03 Born to be Queen – Cornelia (CV. Minagawa Junko) / Euphemia (CV. Minami Omi)
04 Make My Day – Kallen (CV. Koshimizu Ami)
05 Glory Days – Kallen (CV. Koshimizu Ami) / CC (CV. Yukana)
06 Reload – CC (CV. Yukana)
07 Otome no Twinkle Love – Nunnally (CV. Nazuka Kaori) / Kaguya (CV. Kanai Mika) / Tenshi (CV. Matsumoto Tamaki)