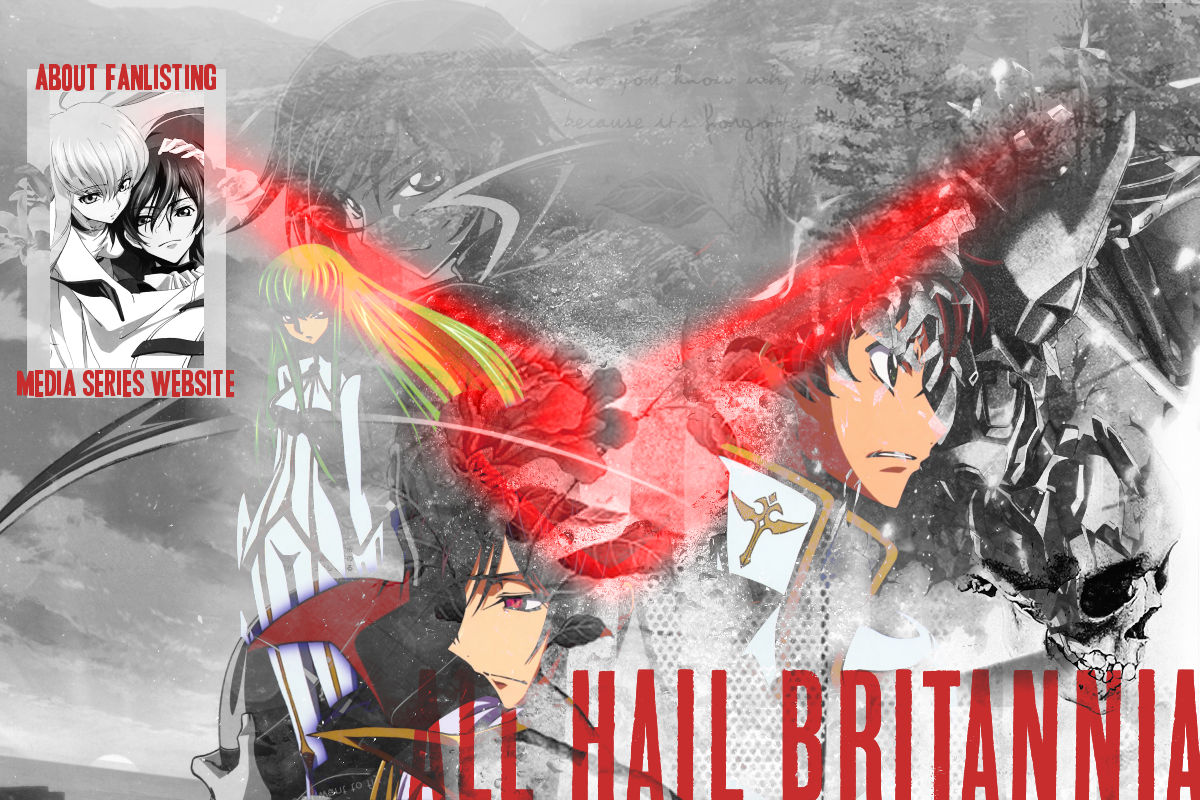 Welcome
Welcome to All Hail Britannia, a shrine and AnimeFanlistings.com approved fanlisting for the anime series Code Geass: Lelouch of the Rebellion. Here you will find information, media, and all the latest Code Geass news. If you are a fan of Code Geass, please consider showing your support for the series by joining its fanlisting.
Piano Solo Collection and Concert
Posted onMarch 6, 2018
On March 28 the album Code Geass: Lelouch of the Rebellion Piano Solo Collection will be released. It features 12 piano versions of Code Geass songs, performed by the popular YouTube and Nico Nico pianist Morishita Yui, also known as "Duke Pianito". In addition, a concert will be held at Yamaha Hall on April 26 with Duke Pianito performing with an appearance by Code Geass director Taniguchi Goro.
Piano Solo contains the following songs:
01. COLORS(オリジナル:FLOW)/ ピアニート公爵(演奏・編曲)
02. Nightmare(オリジナル:中川幸太郎)/ ピアニート公爵(演奏)、宮野幸子(編曲)
03. Stories(オリジナル:Hitomi)/ ピアニート公爵(演奏)、タカノユウヤ(編曲)
04. 勇侠青春謳(オリジナル:ALI PROJECT)/ ピアニート公爵(演奏)、タカノユウヤ(編曲)
05. Masquerade(オリジナル:Hitomi)/ ピアニート公爵(演奏)、宮野幸子(編曲)
06. モザイクカケラ(オリジナル:SunSet Swish)/ ピアニート公爵(演奏)、タカノユウヤ(編曲)
07. Previous Notice(オリジナル:中川幸太郎)/ ピアニート公爵(演奏)、タカノユウヤ(編曲)
08. Elegant Force(オリジナル:中川幸太郎)/ ピアニート公爵(演奏)、タカノユウヤ(編曲)
09. Innocent Days(オリジナル:Hitomi)/ ピアニート公爵(演奏・編曲)
10. WORLD END(オリジナル:FLOW)/ ピアニート公爵(演奏)、タカノユウヤ(編曲)
11. 0(オリジナル:中川幸太郎)/ ピアニート公爵(演奏・編曲)
12. 僕は、鳥になる。(オリジナル:Hitomi)/ ピアニート公爵(演奏・編曲)
13. Continued Story(オリジナル:Hitomi)/ ピアニート公爵(演奏・編曲)
Also coming in March, the book Code Geass: Lelouch of the Rebellion Best Selection contains official sheet music for 22 Code Geass songs, as well as color illustrations and a poster. It will be available on March 26.
1.COLORS/FLOW
2.解読不能/ジン
3.瞳ノ翼/access
4.勇侠青春謳/ALI PROJECT
5.モザイクカケラ/SunSet Swish
6.O2~オー・ツー~/ORANGE RANGE
7.WORLD END/FLOW
8.シアワセネイロ/ORANGE RANGE
9.わが﨟たし悪の華/ALI PROJECT
10.Stories/Hitomi
11.Masquerade/Hitomi
12.Alone/Hitomi
13.Innocent Days/Hitomi
14.Nunnally/Hitomi
15.僕は、鳥になる。/Hitomi
16.Continued Story/Hitomi
17.ピカレスク/酒井ミキオ
18.Callin'/酒井ミキオ
19.0
20.Nightmare
21.Elegant Force
22.Previous Notice
CODE BLACK+ Album
Posted onFebruary 25, 2018
The Code Geass: Lelouch of the Rebellion CODE BLACK+ character song album was released by FlyingDog on February 21, 2018. You can preview these songs on Amazon Japan. The track list is as follows:
01 Back to Zero – Lelouch (CV. Fukuyama Jun)
02 libra – Lelouch (CV. Fukuyama Jun)
03 Born to be Queen – Cornelia (CV. Minagawa Junko) / Euphemia (CV. Minami Omi)
04 Make My Day – Kallen (CV. Koshimizu Ami)
05 Glory Days – Kallen (CV. Koshimizu Ami) / CC (CV. Yukana)
06 Reload – CC (CV. Yukana)
07 Otome no Twinkle Love – Nunnally (CV. Nazuka Kaori) / Kaguya (CV. Kanai Mika) / Tenshi (CV. Matsumoto Tamaki)
Fujiwara Sakura – The Moon Lyrics
Posted onFebruary 25, 2018
真っ暗な月の
向こう側を知ってて
真っ白な夜に怯えてるの
消える幻には
誰も気にとめない
間違いを正すために
全て奪うの?
あぁ、分かり合うことなど
できないならって諦めて
息もせず 進むの 誰のため?
愛を知っているだけなの
あなたもそうでしょ?
導かれてるみたい
今も 誰かの目で
憎しみは廻っていく
希望の隣で
あぁ、歪んで見えない
あの子もきっと探してた
息もせず 泳ぐの この空を
声をあげても届かないのは
あなたのせいでしょ?
あぁ、もし許せないなら
いっそもうこの手を離して
息もせず 進むの 誰のため?
君を愛していただけなの
あなたはどうなの?
何もかも手にしたその先に
愛を待っているだけなの
あなたもそうでしょ?
君を愛していただけなの
あなたもそうでしょ?